Part of the DNA of SERVE 6.8 is what we fondly call the Red Shirt and even the "Red Shirt Culture." We get asked a lot, what does the red shirt mean, is it really that important? There is a lot represented in wearing the Red Shirt and it is important to understand its history and importance.
The founding verse that inspires the Red Shirt is Isaiah 6:8: "Who will go for us?" And I said, "Here am I. Send me!" As church leaders, God has called us to "equip the saints" (Ephesians 4:1-16). This means disciplining followers of Jesus and equipping them to be sent to serve. Through mobilizing and equipping followers of Jesus, we are able to create capacity within the Church body to serve and love the community to the fullness that God intended, in order to draw all people back to Himself.
When we started with the disciple and equip concept as part of Timberline Church, the Red Shirt was a symbol of teamwork and shared unity around serving our community. As SERVE 6.8 grew in church partners, the red shirt grew as well. Now the Red Shirt provides the opportunity to serve not just under one church banner, but together, unified as the Church of Jesus Christ. It can provide a visible representation to the community of the Church in action as well as reminding of the teamwork required among those serving alongside each other. When you put on the Red Shirt, it's a reminder that you are committing yourself to serve God and fulfill His call to serve and love others while representing the Church of Jesus.
While we believe in the Red Shirt Culture (volunteer culture), there are many SERVE 6.8 supporters that also feel the power of wearing their red shirt, here's what some of them had to say about why they love it.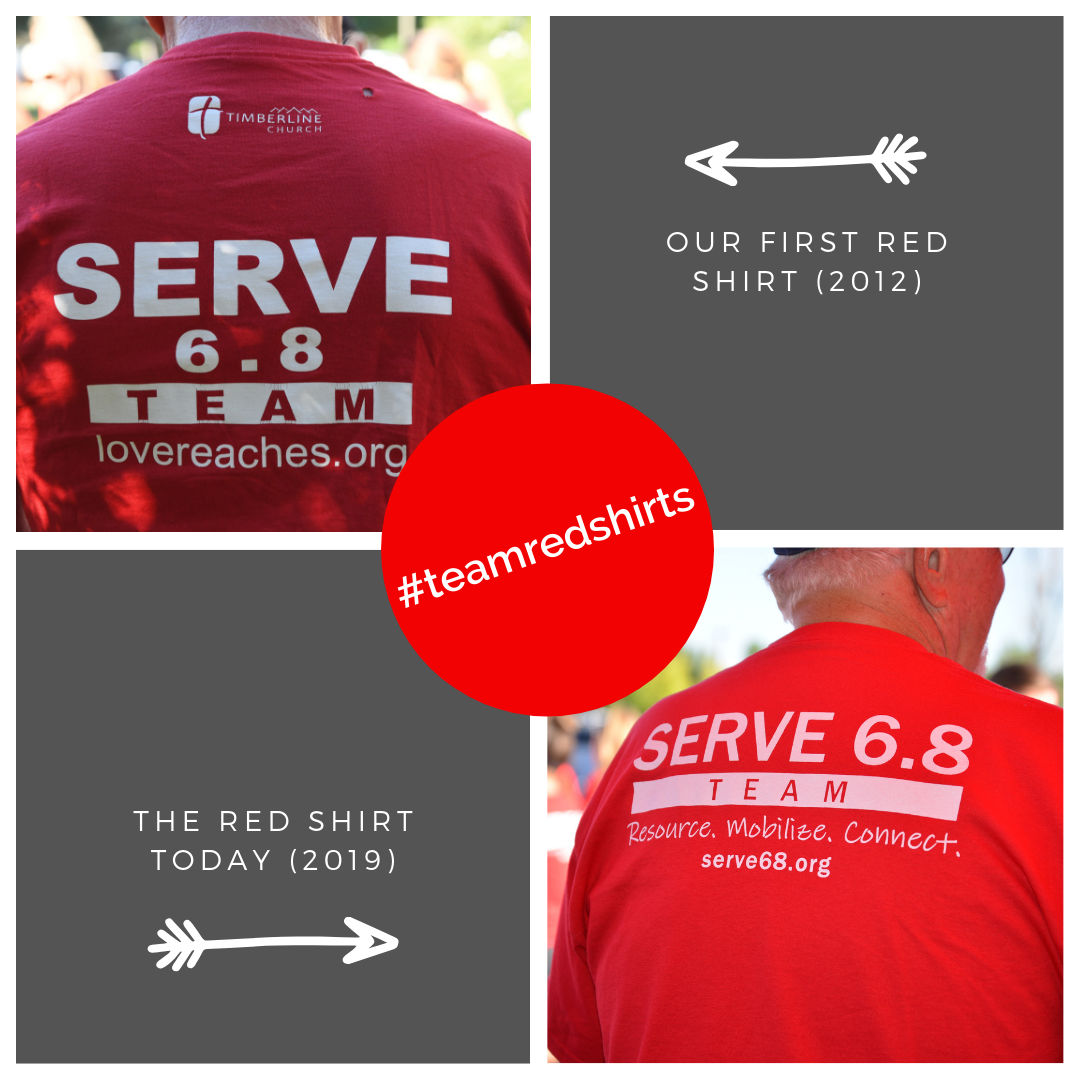 Resource Center Volunteer:
First, the red shirt for me is a symbol of Christs blood which was shed selflessly for me. Christ's blood was not an exclusive donation for a privileged few but was an unconditional act of love for all who believe.
Second, the red shirt is a constant reminder of the teamwork that is needed to reach the lost and underserved in our community. Being part of the SERVE 6.8 team humbles me knowing that I cannot do this alone and without God's grace.
SERVE 6.8 Executive Director
The Red Shirt of SERVE 6.8 has always been an important reminder to me that God has a call and a plan for each of His people. My commitment to Him when I put on the shirt, is that I will walk obediently with Him and be willing to humble myself and learn about others, myself and my purpose by serving others. So not only does the Red Shirt reflect the importance of my personal journey of service, but it also represent the unity of the Church of Jesus, transcending the differences of each individual church, reminding us that Jesus intended His Church to be the chosen vehicle to transform the world.
SERVE 6.8 Board Chair
SERVE 6.8 Red shirts are such an incredible vehicle for both the church and the red shirt participant to tangibly make a difference in our community.  Often times there are very unique and specific needs that are brought to the church that require mobilization of people to meet that need. At the same time, we have so many church goers looking for an opportunity to plug in and serve.  The SERVE 6.8 Red Shirts ministry addresses both and truly makes a difference for those being served and those serving.